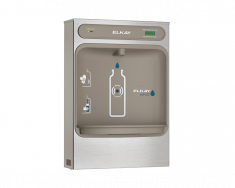 LZWSSM
-
EZH2O SURFACE MOUNT BOTTLE STATION, FILTERED
Elkay EZH2O Bottle Filling Station Surface Mount, Filtered, Non-Refrigerated, Stainless Steel Finish

Shipping Cost for Domestic Orders: $108.50 / Each
Download Specification Sheet
Touchless, sensor-activated design for use in limited wall depth applications.
Fill rate is 1.5 GPM.
Visual filter monitor with LED filter status indicator for when filter change is necessary.
The 3,000-gallon filter is certified to NSF 42 and 53 for lead, Class 1 particulate, chlorine, taste and odor reduction.
Green Ticker informs user of number of 20 oz. plastic water bottles saved from waste.
Able to pair with a remote chiller.
Laminar flow provides clean fill with minimal splash.
Silver ion antimicrobial protection on key plastic components to inhibit the growth of mold and mildew.
Real drain system eliminates standing water.
Rated for indoor use.
Special Note: *Coming soon: The Elkay ezH2O you know and love is
getting a fresh look; in stock models may have prior
logo design.