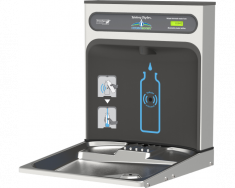 HTHB-HAC-RF-NF
-
Bottle Filling Station RetroFit Kit, Non-Filtered
Halsey Taylor HydroBoost Bottle Filling Station RetroFit Kit, Non-Filtered, Non-Refrigerated
The Halsey Taylor HydroBoost Bottle Filling Station delivers a clean quick water bottle fill and enhances sustainability by minimizing our dependency on disposable plastic bottles. Designed to retrofit existing 115V pushbar-activated HAC style water coolers - includes new basin and drain. Sanitary no-touch sensor activation with automatic 20-second shut-off timer.

Shipping Cost for Domestic Orders: $148.50 / Each
Download Specification Sheet
Touchless, sensor-activated bottle filler, designed for easy use; retrofits existing HAC 115V style coolers.
Fill rate is 1.5 GPM.
Green Counter™ informs user of number of 20 oz. plastic water bottles saved from waste.
Laminar flow provides clean fill with minimal splash.
Silver ion antimicrobial protection on key plastic components to inhibit the growth of mold and mildew.
Real drain system eliminates standing water.
Exclusive Double Bubbler™ which projects two separate streams that converge to form a fuller, more satisfying drink.
Rated for indoor use.