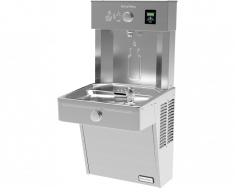 HTHBHVR8
-
HydroBoost Vandal-Resistant Bottle Station w/Fltr
Halsey Taylor HydroBoost Vandal-Resistant Bottle Filling Station & Single ADA Cooler, Filtered, 8 GPH, Stainless Steel Finish
The Halsey Taylor HydroBoost Bottle Filling Station delivers a clean quick filtered water bottle fill and enhances sustainability by minimizing our dependency on disposable plastic bottles. Vandal-resistant cooler and bottle filling station in a consolidated space saving ADA compliant design. Pushbutton activation with automatic 20-second shut-off timer on bottle filler.

Shipping Cost for Domestic Orders: $188.00 / Each
Download Specification Sheet
Ideal for heavy-use installations such as educational and indoor recreational facilities.
Vandal-resistant, push-button activation for both the bottle filler and the water cooler.
Fill rate is 1.1 GPM.
Visual filter monitor with LED filter status indicator for when filter change is necessary.
The 3,000-gallon filter is certified to NSF 42 and 53 for lead, Class 1 particulate, chlorine, taste and odor reduction.
Green Counter™ informs user of number of 20 oz. plastic water bottles saved from waste.
Laminar flow provides clean fill with minimal splash.
Real drain system eliminates standing water.
Vandal-resistant bubblers feature chrome-plated integral hood guard to prevent contamination from other users, airborne deposits and tampering.
Rated for indoor use.