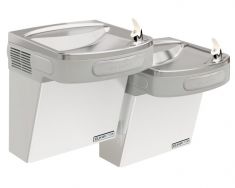 EZSTLG8SC
-
Wall Mount Bi-Level ADA Cooler, GreenSpec
Elkay Wall Mount Versatile Bi-Level ADA Cooler, GreenSpec, Non-Filtered, 8 GPH, Stainless Steel Finish

The EZ models are Elkay's most popular water cooler series. This space saving ADA compliant design meets adult or child standards when properly installed. NEW Versatile bi-level design allows for standard high-left/low-right or alternate low-left/high-right installation.

Shipping Cost for Domestic Orders: $148.50 / Each
High-performance compressor and insulation greatly reduces energy consumption.

Hermetically sealed refrigeration system provides chilled water to satisfy thirst.

Exclusive fastenerless integrated drain reduces debris accumulation and is easy to clean.

Electronic bubbler push bars for easy activation.

Equipped with StreamSaver low-flow bubbler.

Stainless steel finish is corrosion resistant and attractive.

GreenSpec Listed and badged to demonstrate commitment to sustainability.

Rated for indoor use.