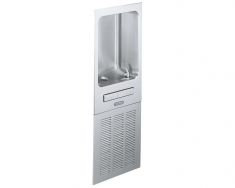 EFRP8K
-
Elkay Fully Recessed Water Cooler
THIS MODEL IS NO LONGER AVAILABLE

Elkay Water Cooler, Wall Mount, Fully Recessed, Non-Filtered, Refrigerated, Stainless Steel Finish

Shipping Cost for Domestic Orders: $148.50 / Each
Fully-recessed stainless steel design allows for obstacle free walkways.

Hermetically sealed refrigeration system provides chilled water to satisfy thirst.

Mechanical bubbler push bar continues to provide water when electrical service is interrupted.

Flexi-Guard bubbler provides a flexible antimicrobial mouth guard to protect against injury and microorganisms.

Stainless steel finish is corrosion resistant and attractive.