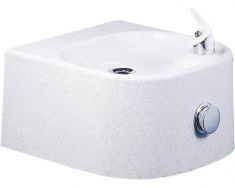 EDFP210RC
-
Elkay- Premium Composite, Soft Sides Fountain
Elkay Soft Sides Single Composite Fountain, Non-Filtered, Non-Refrigerated, White Granite Composite

SoftSides® Marblyte™ architectural drinking fountains feature a composite solid surface material with USDA BioPreferred designation. They feature softly rounded corners and a Contoured basin designed to provide a splash-resistant surface.

Shipping Cost for Domestic Orders: $108.50 / Each
Durable and nonporous granite-like contoured fountain provides an attractive and safe product.

Mechanical push-button bubbler activation continues to provide water when electrical service is interrupted.

Flexi-Guard bubbler provides a flexible antimicrobial mouth guard to protect against injury and microorganisms.

Composite material withstands the harshest environments.

Bottom cover plate conceals plumbing and internal components.

Rated for indoor or outdoor use, and appropriate for environments caustic to stainless steel.