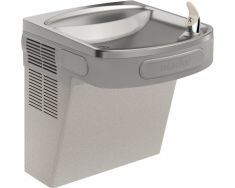 LZSDL
-
Elkay ADA Drinking Fountain, Filtered
Elkay Wall Mount ADA Drinking Fountain, Filtered, Non-Refrigerated, Light Gray Granite Finish

Shipping Cost for Domestic Orders: $128.50 / Each
Attractive, contemporary design matches modern architecture.

Electronic bubbler push bars for easy activation.

Exclusive fastenerless integrated drain reduces debris accumulation and is easy to clean.

Flexi-Guard bubbler provides a flexible antimicrobial mouth guard to protect against injury and microorganisms.

Filter system certified to NSF 42 and 53 for lead, Class 1 particulate, chlorine, taste and odor reduction.

Rated for indoor use.