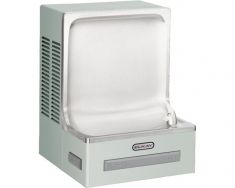 EHFSADLF
-
Elkay Legacy ADA Series, Glass Filler Prepped
THIS MODEL IS NO LONGER AVAILABLE

Elkay Drinking Fountain, Wall Mount Adult ADA,Glass Filler Prepped, Non-Filtered, Non-Refrigerated, Light Gray Granite Finish

Shipping Cost for Domestic Orders: $128.50 / Each
Special Note: Glass filler ordered separately.

Barrier-free, ADA design meets adult ADA standards when properly installed.

One-piece backsplash and basin polished to a satin finish.

Light-touch controls on front and sides for easy operation.

Flexi-Guard bubbler provides a flexible antimicrobial mouth guard to protect against injury and microorganisms that also reduces water waste.

Vinyl clad finish is durable and attractive.