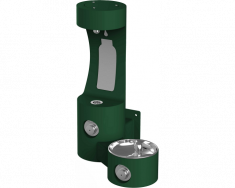 LK4408BF
-
Outdoor EZH2O Bottle Filling Station, Wall Mount
Elkay Outdoor EZH2O Bottle Filling Station, Wall Mount, Non-Filtered, Non-Refrigerated, Evergreen Finish

Shipping Cost for Domestic Orders: $188.00 / Each
Download Specification Sheet
Ideal for educational campuses and recreational areas.
Powder-coated exterior over a corrosion-resistant stainless steel type-316 base material provides the ultimate protection from the elements.
Heavy-gauge construction with tamper-resistant screws that resist stains and corrosion.
Vandal-resistant bubblers feature chrome-plated integral hood guard to prevent contamination from other users, airborne deposits and tampering.
Mechanically-Activated bubbler continues to supply water in event of service disruptions.
Bottle filler meets ADA guidelines for reach range; fountain meets ADA guidelines for wheelchair access.
Laminar flow provides clean fill with minimal splash.
Ideal for outdoor use.