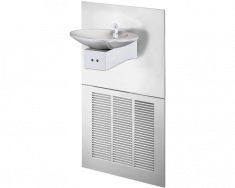 OVLSR-EE
-
Halsey Taylor Oval Hands-Free Fountain
Halsey Taylor Contour Oval Hands-Free Fountain, Non-Filtered, 8 GPH, Stainless Steel Finish

Shipping Cost for Domestic Orders: $148.50 / Each
Download Specification Sheet
Patented stainless steel design enhances any architectural design, whether classic landmark or cutting edge.
Mechanical push-button bubbler activation continues to provide water when electrical service is interrupted.
Exclusive Double Bubbler provides a satisfying and more fulfilling drink of water.
Stainless steel finish is corrosion resistant and attractive.
Bottom cover plate conceals plumbing and internal components.
8634087483