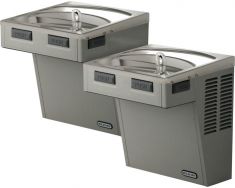 EMABFTLVR8SC
-
Elkay ADA Bi-Level Water Cooler, VR Bubblers
Elkay Wall Mount Bi-Level ADA Cooler, Non-Filtered, Refrigerated, Vandal Resistant Bubblers, Stainless Steel Finish

Mechanically-activated water cooler ideal for areas prone to service disruptions. Easy-to-operate front and side pushbar activation.

Shipping Cost for Domestic Orders: $148.50 / Each
Classic design fits well in all building designs.

Hermetically sealed refrigeration system provides chilled water to satisfy thirst.

Mechanical bubbler push bars continue to provide water when electrical service is interrupted.

Vandal-resistant bubblers feature chrome plated integral hood guard to prevent contamination from other users, airborne deposits and tampering.

Rated for indoor use.