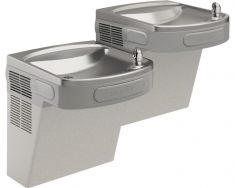 LZSTLVR8LC
-
Elkay ADA Bi-Level w/Filter & VR Bubbler
Elkay Versatile Water Cooler, Wall Mount, ADA, Bi-Level, VandalResist Bubbler, Filtered, Refrigerated, Light Gray Granite Finish

This space saving ADA compliant design meets adult or child standards when properly installed. NEW Versatile bi-level design allows for standard high-left/low-right or alternate low-left/high-right installation.

Shipping Cost for Domestic Orders: $148.50 / Each
Attractive, contemporary design matches modern architecture.

Vandal-resistant bubblers feature chrome plated integral hood guard to prevent contamination from other users, airborne deposits and tampering.

Hermetically sealed refrigeration system provides chilled water to satisfy thirst.

Electronic bubbler push bars for easy activation.

Exclusive fastenerless integrated drain reduces debris accumulation and is easy to clean.

Filter system certified to NSF 42 and 53 for lead, Class 1 particulate, chlorine, taste and odor reduction.

Rated for indoor use.