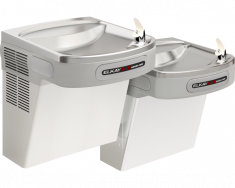 EZOOSTL8LC
-
Elkay Bi-Level Cooler, Dual Hands-Free Sensor
Elkay Bi-Level ADA Cooler, Dual Hands Free Activation, 8 GPH, Non-Filtered, 8 GPH, Light Gray Granite Finish
The Elkay EZ models are our most popular water cooler series. Complete hands free space saving ADA compliant design meets adult or child standards when properly installed. NEW Versatile bi-level design allows for standard high-left/low-right or alternate low-left/high-right installation.

Shipping Cost for Domestic Orders: $148.50 / Each
Download Specification Sheet
Touchless, dual sensor-activated units are designed for easy use and improved hygiene.
Attractive, contemporary design matches modern architecture.
Exclusive fastenerless integrated drain reduces debris accumulation and is easy to clean.
Flexi-Guard bubbler provides a flexible antimicrobial mouth guard to protect against injury and microorganisms.
Vinyl clad finish is durable and attractive.
Rated for indoor use.