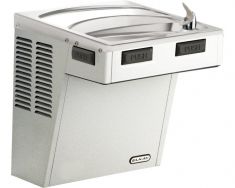 EMABF8S
-
Elkay ADA Water Cooler Stainless Steel Finish 8GPH
Elkay ADA Single Water Cooler, Wall Mount, Non-Filtered, Stainless Steel Finish, 8GPH. Ships directly from the factory.
Mechanically-activated water cooler ideal for areas prone to service disruptions. Easy-to-operate front and side pushbar activation.

Shipping Cost for Domestic Orders: $128.50 / Each

Download Specification Sheet
Elkay self-contained, electric refrigerated, wall-mounted Elkay ADA Drinking Fountain, Stainless Steel Finish, 8GPH.
Unit is certified to NSF/ANSI 61 and meets requirements of the Safe Drinking Water Act. Unit provides 50 degree F water at 80 degree F inlet water and 90 degree F ambient (room temperature).
Classic design fits well in all building designs.
Stainless steel finish is corrosion resistant and attractive.
Mechanical bubbler push bars continue to provide water when electrical service is interrupted.
Flexi-Guard bubbler provides a flexible antimicrobial mouth guard to protect against injury and microorganisms.